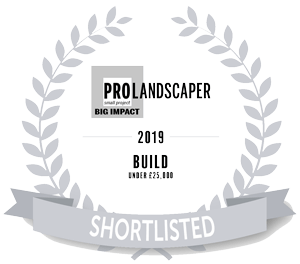 Dishevelled and unloved, thick with overgrown evergreen shrubs, ramshackle fencing, uneven paving and open drainage, this outdoor space in Chiswick was in need of attention.
The homeowners wanted a contemporary courtyard that was family-friendly and modern and a space where they could entertain with plants with year-round interest. The space had to feel open and inviting, yet keeping a degree of privacy.  They also wanted to have a space for their children to play and to include materials that would complement the stylish interior of the house.
What We Did
The steps at the backdoor were grey and uninviting, so we laid beautiful green and blue Moroccan style encaustic tiles to give a splash of much-needed colour. We opted for cedar batten fencing to minimise the oppressive feel of the high walls and to introduce more light into the garden.
Printed porcelain paving replaced the drab and uneven concrete slabs making the space feel light and spacious.
The cedar timber floating bench provides a place to sit and entertain.  It's also the perfect height for the children to use as a play bench.
The planting scheme was intended to create drama and to draw the eye outside of the boundary fence.  Tall multi-stemmed Juneberry trees and a mix of shade-tolerant plants softens the hard contours of the fence and paving.  A soft natural look was achieved by planting a mixture of evergreen and perennial shrubs and trees of different heights.
This contemporary courtyard with its modern and contemporary look is now bright and welcoming.
We are delighted that this garden was shortlisted for the "2019 Pro Landscaper 'Big Project, Small Impact Under £25K' award" and was featured in the June 2020 edition of the Pro Landscaper Magazine.
This garden was designed by Shelley Hugh-Jones Garden Design.