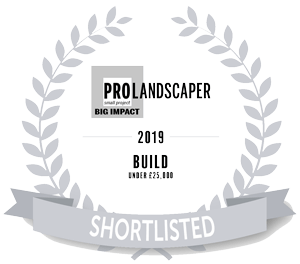 This garden was overgrown and not used at all by the property owners. The homeowners wanted a contemporary courtyard that was family friendly and modern.
To achieve this, materials were chosen to match the stylish interior of the house. Also by using lighter coloured material we were able to brighten up the garden. The printed porcelain paving gave a contemporary modern feel whilst introducing added interest. Cedar batten fencing was used  to clad the boundaries to minimise the oppressive feel of the high boundaries and to introduce more light into the garden.
The cedar timber floating bench now provides a place to sit and entertain.  It is also the perfect height for the clients' children to use as a play bench.
To brighten up the dull and dark corner by the french doors, the original steps were clad in beautiful blue and grey encaustic tiles to add much-needed colour and interest in an area that had been previously neglected.
This contemporary courtyard is now bright and welcoming and used by the property owners and their children on a daily basis.  We are delighted that this garden was featured in the June 2020 edition of the Pro Landscaper Magazine.
This garden was designed by Shelley Hugh-Jones Garden Design.