LANDSCAPE GARDEN DESIGN
 Designing beautiful gardens to suit your lifestyle.
LANDSCAPE AND GARDEN DESIGN
 Designing beautiful gardens to suit your lifestyle.
Garden Design Service
It's our job as landscape garden designers to come up with a design that perfectly marries your lifestyle and aspirational needs with practicality. We take your wishlist and how you want to use your garden and combine it with even more creativity and insight.  
You may not know exactly what you want, but you will probably know how you want to feel when you are pottering about or having that barbeque in your outdoor space.
Having a solid garden design from the outset also means you are less likely to encounter problems with construction.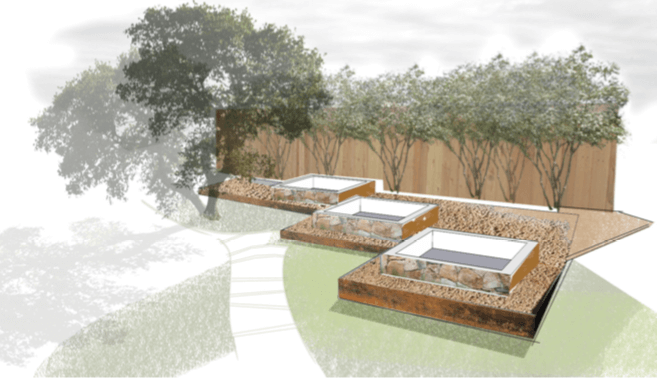 Our Garden Design Expertise
With over 25 years' experience, we've designed gardens that are cosy and personal, to grand and formal; from modern and sleek to brash and outlandish. This means we've seen it all.  Coupled with our landscape construction expertise, we know what designs can work within your space. 
A great design might look fantastic on paper but if the implementation isn't practical, it could be disastrous. 
The Landscape Garden Design Process
1. Design Consultation
At your no-obligation consultation, we'll discuss your landscape requirements and take measurements of your garden. We will then send you a fully customised brief and quotation outlining the proposed design and associated fees.
2. Site Survey Analysis
Upon approval of the garden design fee and payment of the deposit, our garden landscape designer will visit you to discuss ideas and layouts, carry out an in-depth survey of your garden and complete a full analysis.
3. Garden Layout Proposals
Following on from the garden design survey, we will then formulate two to three garden layout designs for your approval.
4. Garden Design Drawings
On approval of one of our proposed garden layouts, our garden designer will then create a series of drawings based on the chosen layout. The drawings will include a master plan, material pallet, planting plan and lighting plan. 3D drawings and elevations can also be supplied at additional cost. Once approved, we will then provide you with a quote for the garden construction.