LANDSCAPE GARDEN DESIGN
We are garden designers transforming gardens across London and the home counties.
LANDSCAPE AND GARDEN DESIGN
Garden design specialists transforming gardens across London and the home counties
Garden Design Service
As garden designers, we pride ourselves on providing you with a garden landscape design that blissfully combines your aesthetic values and practicality. Homeowners within and around London have relied on our design service to produce a captivating garden that realizes their dreams for years.
Our Garden Design Expertise
At Nordland Landscapes, our garden designers have designed it all. We've designed gardens that are cosy and personal, to grand and formal; from modern and sleek to brash and outlandish.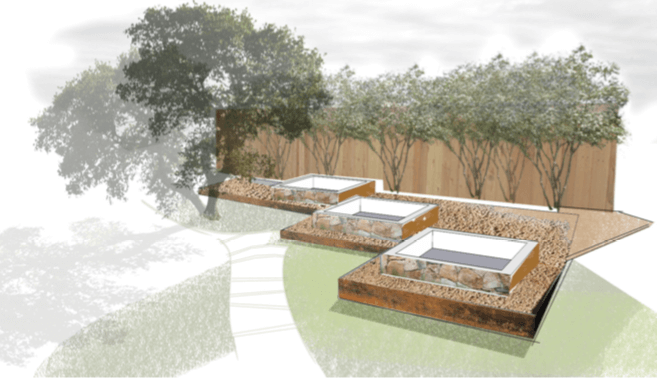 Garden Designs that Transform Dreams
We are passionate about building gardens that exceed expectations. Our exceptionally skilled garden landscape designer will work with you to transform your dreams into a garden landscape reality. At Nordland Landscapes, we understand that your garden should become an integral part of your home, a space in which you can extend your own personal style. Your garden, just like the rest of your home, should beautifully mirror your personality and tastes but also accommodate your lifestyle.
The Garden Landscape Design Process
1. Design Consultation
Firstly, a no-obligation appointment will be scheduled with one of our team at a convenient time for you. They will visit your garden and discuss your landscape requirements with you in detail and take the measurements of your garden. Your consultation will be swiftly followed up with a fully customised brief and quotation outlining the proposed design and associated fees.
2. Site Survey Analysis
Upon approval of the garden design fee and payment of the deposit, our garden landscape designer will visit you to discuss ideas and layouts, carry out an in-depth survey of your garden and complete a full analysis.
3. Garden Layout Proposals
Following on from the garden design survey, we will then formulate two to three garden layout designs for your approval.
4. Garden Design Drawings
On approval of one of our proposed garden layouts, our garden designer will then create a series of drawings based on the chosen layout. The drawings will include a master plan, material pallet, planting plan and lighting plan. 3D drawings and elevations can also be supplied at additional cost. Once approved, we will then provide you with a quote for the garden construction.
TESTIMONIALS
'If you are a garden designer needing advice for a particular aspect of a garden installation, Dan's consultancy service is worth its weight in gold. I have used him both during the design process, and whilst on site on a tricky job. He has proven invaluable in both types of situations. There isn't much he hasn't seen or come across in the course of his professional life and I found him very generous with his knowledge.'
Ana Sanchez-Martin MSGD, Germinate Garden Design
'We are very happy with our garden.'
PC, Crouch End
'Thanks for a great job, we love it!'
WB, Highgate
'Dan has accumulated years of experience implementing high-end gardens for a top firm. His knowledge and expertise in all aspects of garden installation are fantastic. If you are looking for a garden built to last, with a high-quality finish and delivered by a polite, competent professional, you should engage Dan's company. He is world's apart from the myriad of 'man with van' type landscapers who often have very limited experience and certainly no finesse (but often charge as if they do).'
Ana Sanchez-Martin MSGD, Germinate Garden Design
'Thank you for the great garden you have made for us. The unforeseen challenges of a new-build 'builders' garden were a shock to us but did not seem to phase you, Daniel. The 11th-hour discovery of solid concrete waste almost a metre in diameter was swiftly sorted out. The experience, patience and attention to every last detail were superb. With the Nordland team, we were clearly in a safe pair of hands. All work was completed on time and on a budget so we can recommend you to future clients with confidence.'
V & R, Muswell Hill
'Nordland Landscapes recently created a children's play area at the bottom of my garden in north London. The work was done on time, and Dan and his team were professional and courteous. My family are really pleased with the result.'
AJ, Southgate