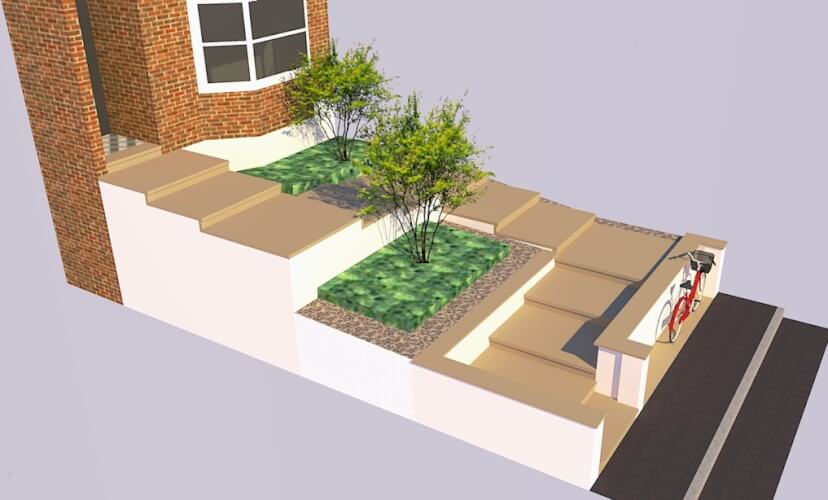 There were three issues to address in this front garden in Muswell Hill. Firstly, it was difficult to access the pavement in front of the house with a buggy. Secondly, the client wanted a storage area created so that the bins would not block the pavement. Thirdly, it was important to make the steps more visible at night due to poor street lighting.
The challenge here was that the front garden sloped very steeply, gaining 2 meters in height from pavement level to the front door of the property.
To allow easy access from the front door to the pavement with a buggy, we installed steps that were wide and long with a step up of 150mm. The shallow rise of the step allows a buggy to be easily pulled or pushed from one step to the next. We also used a larger number of steps to achieve the correct height rise and a shallow step height. We laid the steps in a snaking pattern to fit the amount of low rising steps needed to achieve the height gain required.
So that the wheelie bins could be stored in a space in the garden rather than on the pavement, we pushed the front boundary wall back from its existing alignment. This space also allowed for temporary bicycle storage.
To provide much needed light at night, we placed lighting in the corner of the four landings to wash light across the steps.
In order to provide privacy from the road, we planted two large planting beds and decorative trees.